Maximising the Contribution of the Current Health and Care Workforce is one of the three key work streams for the West Yorkshire and Harrogate Excellence Centre. The activities in this workstream continue the original "core offer" of the Excellence Centre, and are aimed at supporting the current health and care workforce through the provision of a central point that provides signposting to resources and training, bringing together examples of best practice. Within this work stream there are a number of ambitions and activities which are detailed in the diagram below. Additional information on each of the activities is available in the relevant heading list.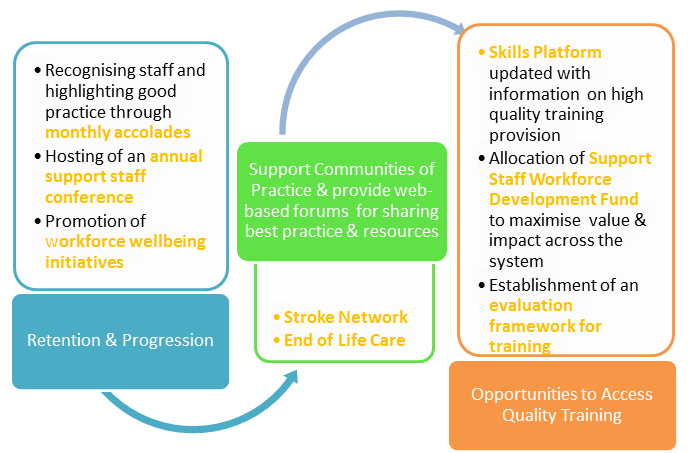 Skills Platform
As an Excellence Centre we have use of the Skills Platform, a national web-based platform where we advertise all training and development opportunities available across West Yorkshire and Harrogate. We strive to keep this as up-to-date as possible. If you would like to advertise any training that you provide or promote for others, please let us know by emailing us at leedsth-tr.wyhexcellencecentre@nhs.net
Evaluation and Feedback
We are keen to promote courses of high quality that have improved participants confidence and work practices. If you have previously undertaken an advertised course please leave feedback for others and help us promote useful learning.
We would particularly like to hear from you if you have brought about a change or measurable impact followng attending any of the courses advertised. See some of the feedback we have received already and leave your own review on the Skills Platform
Monthly Accolade
If you have a colleague who you would like to accolade please let us via email to Leedsth-tr.wyhexcellencecentre@nhs.net
All successful nominations will be highlighted on this website and through social media
Support Staff Conference
We are in the process of agreeing a venue, the agenda and date - March 2020. Conference information and bookings will be posted on the Skills Platform. Keep an eye out on social media and the events pages of this website.
Workforce Well-being Initiatives
Look out for Workforce Wellbeing initiatives that we are promoting on Twitter
A number of resources and development options to support Workforce Wellbeing are available on the Skills Platform
End of Life Care
The West Yorkshire and Harrogate Excellence Centre provided some funding in 2018 for the Kirklees and Calderdale End of Life Care Education Group to develop an End of Life Care Home Workbook.
Following successful events, the workbook can now be accessed free from the Skills Platform enabling staff to develop their confidence and work practices around End of Life Care.
Support Staff Workforce Development Fund
Update on 2019/20 Support Staff Workforce Development Funding (SSWDF)
A total of 14 proposals were received requesting SSSLD funding. A panel met in September where allocations were agreed.
11 of the original proposals were successful and allocated funding, although a number of the proposals have been required to be resubmitted so as provide more information and clarify objectives which will enable improved evaluation of impact for the proposed activities.
The process of sharing the proposals with locality leads proved to be helpful as the panel were able to use their feedback to make informed judgements on allocations and provide assurance that the proposed activities were in alignment with local priorities and have potential to impact system working.
Most of the available funding was allocated to individual projects, however a proportion of the funding has been top sliced for a support staff conference (scheduled in March) and to commission funded face- to- face courses through the Excellence Centre. Individuals working in Health and Care settings (including volunteers) will be able to access these courses on the first come first served basis regardless of where they work. The courses are to be advertised on the Skills Platform where bookings can be made.
Those who submitted successful proposals will be required to submit two activity reports for funding to be released. The first including an evaluation plan with impact measures, the second by the end of Feb 2020 detailing activity.
Evaluation Framework for Training
In the next few months we will be developing an Evaluation Framework for all the training we advertise on the Skills Platform. If you already use an evaluation framework for training, please let us know so we can consider it and share what works.