In recognition of the need for a highly trained health and care support staff workforce, capable of meeting and responding to service challenges and new ways of working, and in response to our employer members who identified gaps in training, the West Yorkshire and Harrogate Excellence Centre provides a range of high quality training and development options to around communication skills, Health and Well- being, The Care Certificate, & Apprenticeships and to support personal development.
Funded through the Local Workforce Action Board, the training is free to access for all member organisations of the West Yorkshire and Harrogate Excellence Centre.
Our training offer is also available for individuals out of area for a small charge.
To see our training offer and to book onto any of our training please visit the Skills Platform on the link below https://www.skillsplatform.org/organisation/west-yorkshire-excellence-centre
To enquire about the cost of any of the courses contact the WYHEC project team by email Leedsth-tr.WYHExcellenceCentre@nhs.net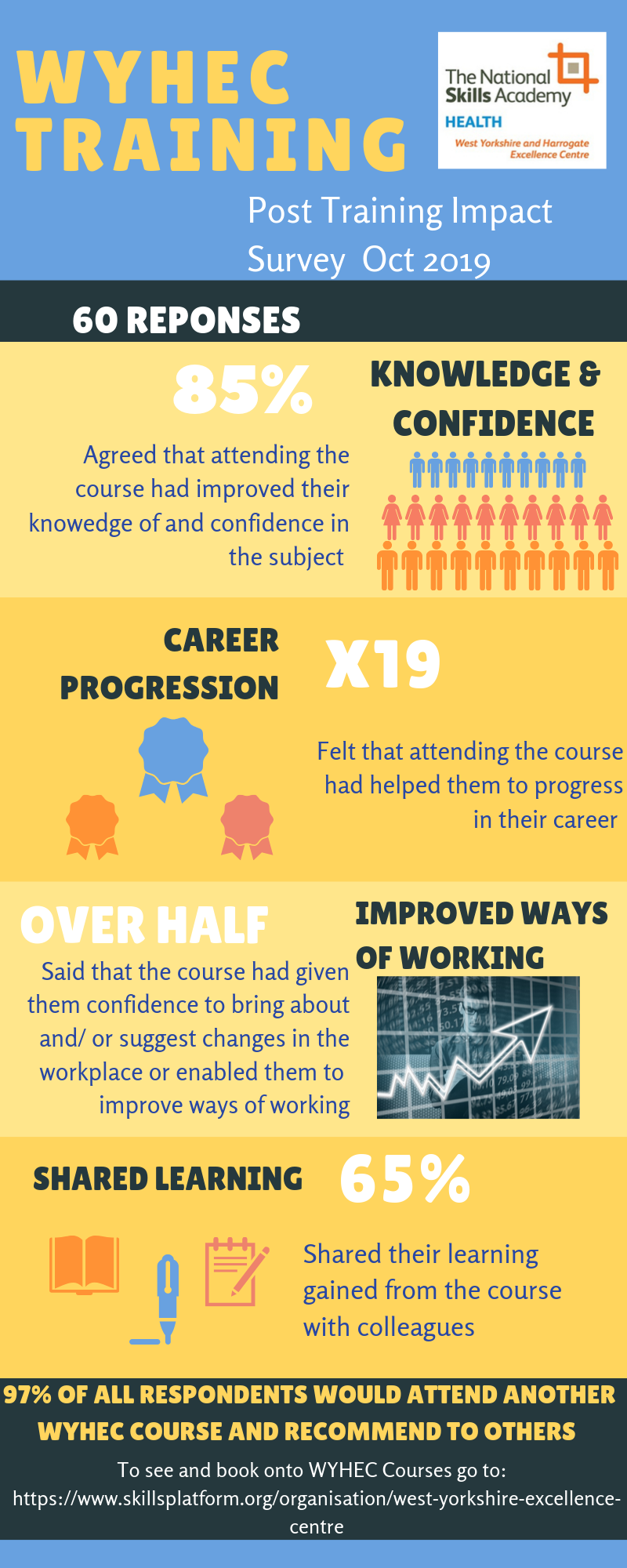 The WYHEC Training and Evaluation framework
The WYHEC Training and Evaluation framework was developed to enable the evaluation of impact of West Yorkshire and Harrogate Excellence Centre training and development interventions. The framework has been used with success. As well as providing a structure with which to collate evaluation data it has also enabled the production of reports and helped demonstrate key areas where the training has had an impact on individuals and the workplace. The impact and outcomes template is being used for projects that are being funded through the 2019/20 HEE Support staff Workforce Development Funding money. The ambition is that as a result of using this framework, we will be able to identify clear impact and outcomes as well as evaluation to inform whether the intervention has been value for money.
Key purpose of Training Evaluation:
To obtain data on those who attended courses and popularity/appeal of course
To evaluate the appropriateness and quality of training to support continuous quality improvement
To assess whether learning has taken place (Level 1 Evaluation)
To gain evidence of impact from attending training and data to demonstrate impact on others and workplace ( Level 2 and 3 Evaluation)
Time of Evaluation

à

How/What

à

Data Outcomes
Sample templates

Pre-course Evaluation

à

Course Booking information taken via Skills Platform at time of booking

à

Contact details of learners ( for post-evaluation)
Job role of those booking
Organisation /location
Number of places booked per organisation

On the day Evaluation

à

Pre and post-course questionnaires
Administered on the day of training via paper questionnaire to all attendees
Responses from all courses transferred to "google forms" for analysis and reporting
Data collated and shared at 3 - 6 monthly intervals

à

Quality and relevance of training whether :

Learner recommends the training to others
Learning has taken place
What the learner will do as a result of attending the training
Data for individual courses and courses overall

Post-course Evaluation

à

Post-course online questionnaire (hosted and administered via "survey monkey")
Emailed to attendees of WYHEC courses 3 -6 months post-training
Responses/data collated through survey monkey - reported 6 monthly

à

Captures post-training reflections & how learning was transferred into the workplace and shared with others plus any resulting impact on learner relating to confidence, career progression, & application of learnt skills

WYHEC Post-course Impact Evaluation Template

à

Course attendees are encouraged to rate training and leave feedback on Skills Platform (via course page)
Comments can be seen by the public
Ongoing review of comments by WHEC team & follow up where necessary

à

Informal "consumer" data /course ratings similar to trip advisor. Provides data to support promotion of courses & comments can be monitored and acted on


Outcomes and Impact Evaluation Template

à

Purpose of the template is to prompt consideration to and make a record of impact and outcomes that would like to be demonstrated.

The template :

Provides a structure to evaluate the impact of training or learning interventions
Enables collation of data in one place
Is based on LEADer framework

The planning section is completed prior to the implementation of the learning intervention, whilst the evaluation section is completed during and following the activities.

Completion of the template provides a written report in which impact and outcomes are detailed, plus an opportunity to consider value for money/Return on Investment

à

Planning section

Intervention and context
Anticipated outcomes, measures of success and effectiveness

Evaluation Section

Evaluation activity and evidence gathered
Costings
Value for money/ Return on Investment
Recommendations and lessons learned


WYHEC Support Staff Workforce Development Funding Outcomes and Impact Evaluation Report template